1. Great entrepreneurs screening
2. Very close Support on investees
3. Business Plan Developement
4. Liquidity Materialization
Executive Summary
& Highlights
Pier 18 is an independent investment firm focused on growth tech investments in the United States.
Compelling market opportunity: Virtual Reality has generated US$ 5.1 Billion in Sales in 2016, with an installed base of 38.9 million consumers, further cementing itself as a key technology in the video game industry. There is also huge potential in other segments, as Artificial Intelligence and Biotech.
Team with superior investment performance in the Venture Capital and growth tech space; over 5 sizeable exits in recent years.
Proven investment strategy and track record for the region.
Marcelo Lacerda
Partner

Professional Background:

• Founder of ZAZ, one of the 1st portal and web access provider in Brazil, that went for IPO in 1999 and was accquired by Telefonica in 2000, being currently branded as Terra.
• Founder of Fulano/F.Biz, the largest independent digital agency in Brazil when it was accquired by WPP in 2011.
• Founder of Blue Interactive, a cable TV and broadband services provider that was sold to NET in 2016.
• Board Member at Pier 18.
Marcelo Peano
Managing Partner

Professional Background:

• Founding Partner of Volt Partners.
• Investment Commitee Member at FIP Warehouse.
• Partner at Lanx Capital, manager of the DLJ-SAP PE fund, in a JV with Credit Suisse.
• Partner, Member of the Board and Executive committee at GP Investments, raising U$ 5+Bn since 1993.
• MBA from University of Chicago - Booth School of Business.




Moises Herszenhorn
Managing Partner

Professional Background:

• Warehouse Investimentos - CEO.
• 2+ Capital - Principal.
• Pampa Capital - Principal
• McKinsey & Company-Associate


Education:

• EAESP-FGV - Business Administration
• Kellog School of Management - MBA




Bernardo Machado
Associate

Professional Background:

• Founder of 3 startups with one successful exit.
• Investment Banking and Strategic Planning background at Deutsche Bank e Itaú Unibanco.
• Coding Experience: Javascipt, HTML and CSS
• Green Belt Certification from Lean Six Sigma.
• Bachelor of Business Administration from Insper and Graduate Degree in Banking from Fundação Getúlio Vargas.
Team with long run
Technology Vision
1st Wave (1990-1999)
> Creation of Internet Based Basic Services
Internet Services Providers

ZAZ was sold to Telefonica and became Terra with a USD 1 Billion IPO afterwards.
2nd Wave (2000-2010)
> Value Added Services
Digital Ad Agencies

Acquired by WPP.
3rd Wave (2010-2015)
> Infrastructure and Professional Investment
Infrastructure

Pier 18 (2015 ...)
> Unique timing investing in key market trends
Macro thesis on markets going through exponencial growth

Virtual reality usage will be dominant as computer power increases rapidly with computing cost decreasing exponentially.
iFood is the 1st successful VC exit of decade in Brazil.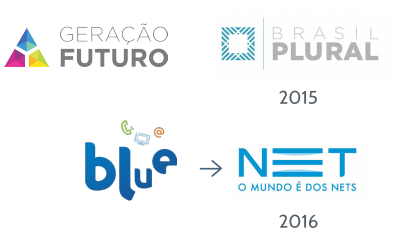 Other Adjacent markets that will follow the same path:
• Cloud Computing and Network
• A.I.
• Self Learning Software
Financial Expertise
& Discipline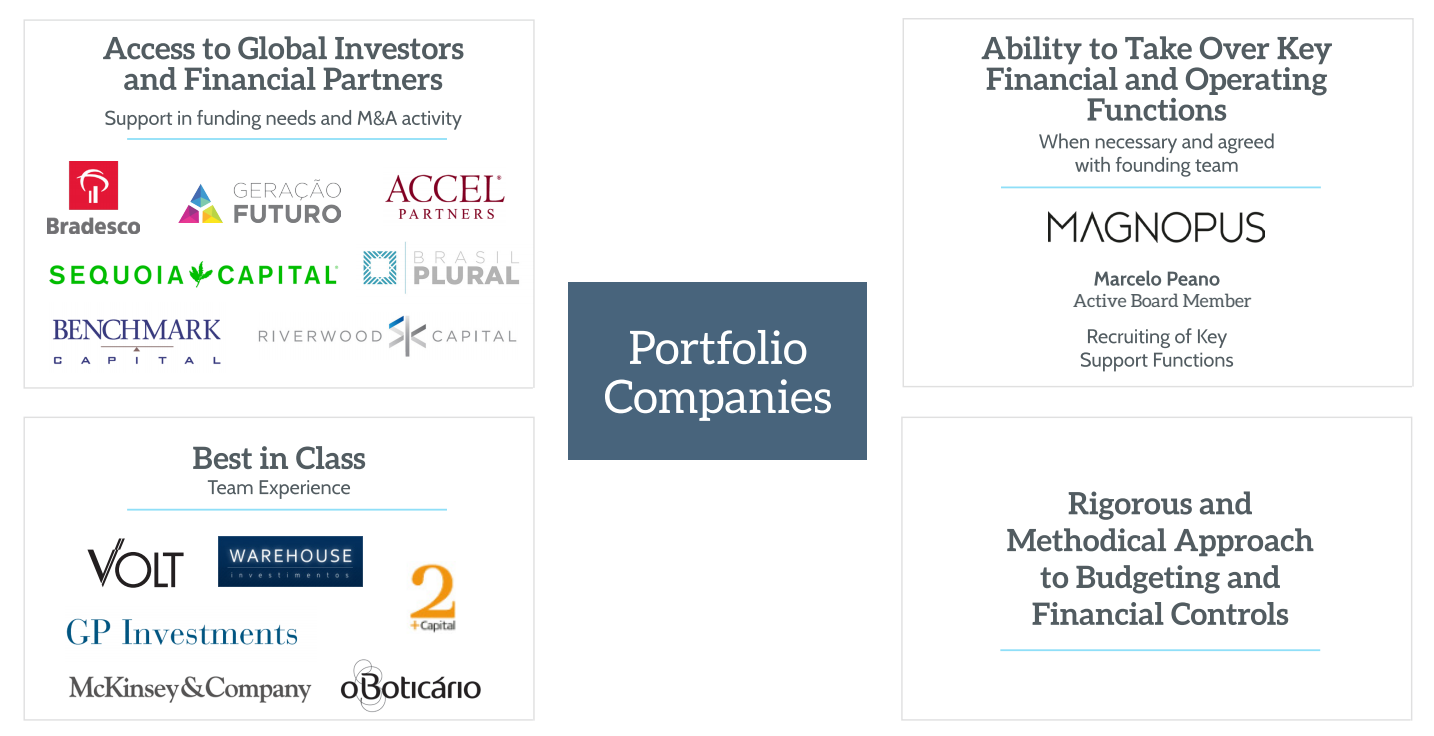 > Investment Committee
1/ Quarterly meetings to approve new investments and follow on rounds.
2/ Supervision on all investees and fund activities.
3/ Main LP may have a seat on the investment committee and an Investee.
4/ All main decisions of the investment committee require unanimous approval.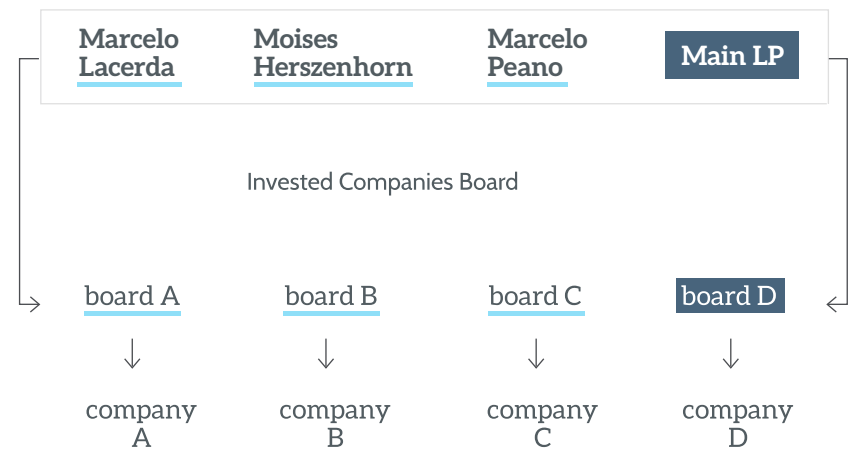 > Fund
Quarterly meetings

Monthly meetings

> Companies
Investee Meetings
(at least quarterly)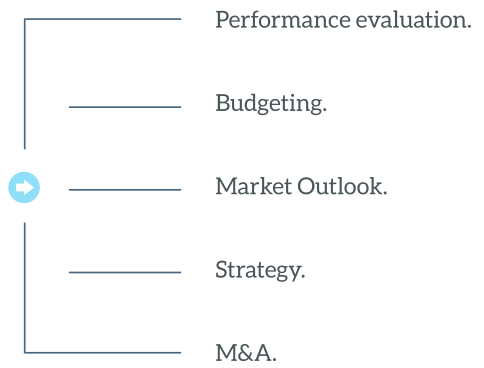 Magnopus

IFood

Gestum

Escolher seguro

Byogy

Terracycle
Total liquidity
Round Series Funding
Partial liquidity